Sophia Frangou, M.D., Ph.D.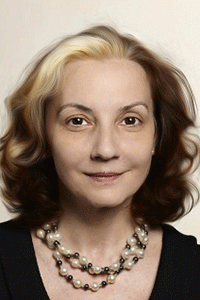 2019 Colvin Prizewinner for Outstanding Achievement in Mood Disorders Research
2008 Independent Investigator Grant
2002 Young Investigator Grant
Sophia Frangou, M.D., Ph.D.
Research Chair in Brain Health
The University of British Columbia
Icahn School of Medicine at Mount Sinai
Dr. Sophia Frangou's work has greatly advanced the understanding of the pathophysiology of bipolar disorder, particularly in relation to genetic and familial risk. She has made groundbreaking contributions to the characterization of brain mechanisms of resilience in those at high familial risk for bipolar disorder.
Dr. Frangou has authored more than 200 highly cited papers and has written or contributed to 10 books on mental illness. In 2016, she published Women in Academic Psychiatry: A Mind to Succeed, to promote women psychiatrists aiming for academic leadership positions.
Dr. Frangou is a fellow of the European Psychiatric Association (EPA), the Royal College of Psychiatrists and the American Psychiatric Association. She is the founding chair of the Neuroimaging Section of the EPA and the Neuroimaging Network of the European College of Neuropsychopharmacology and current chair of the Panamerican Division of the Royal College of Psychiatrists. She co-chairs the Lifespan Working Group of the Enhancing NeuroImaging Genetics Through Meta-Analysis (ENIGMA) consortium and the consortium for the investigation of Psychopathology and Allostatic Load Across the Lifespan (PALS). She is editor for European Psychiatry and Human Brain Mapping and member of the editorial board of major scientific journals.
Learn More About the Foundation