Gary S. Aston-Jones, Ph.D.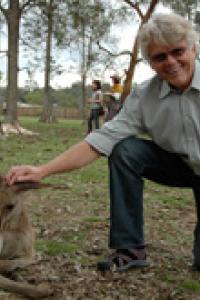 Scientific Council Member (Joined 2013)
Gary S. Aston-Jones, Ph.D.
Director, Brain Health Institute
Charlotte and Murray Strongwater Endowed Chair in Neuroscience and Brain Health
Gary Aston-Jones is the William E. Murray Endowed Chair in Neuroscience at the Medical University of South Carolina, where he is also the Director of the Cognitive Neuroscience Center and the Neuroscience Institute. He earned his Ph.D. in Neurobiology from the California Institute of Technology with Floyd Bloom, and was a Postdoctoral Fellow at the Salk Institute. Dr. Aston-Jones's research focuses on the modulation of reward behavior, addiction and cognitive functions by ascending brain monoamine and peptide systems, and uses neurophysiology, neuroanatomy and behavioral neuropharmacology in animal studies. He and his colleagues have recently described a role for the brain noradrenergic locus coeruleus system in decision and behavioral flexibility, as well as a key role for the neuropeptides orexin/hypocretins in reward processing and addiction.
Dr. Aston-Jones has directed a well-funded lab for more than 20 years, chaired the Neurobiology of Motivated Behavior study section at NIH, and has been a keynote speaker at many national and international meetings. He received the Distinguished Lecturer Award at the University of North Carolina Behavioral Neuroscience Program in February, 2013. He serves as the Deputy Editor-in-Chief for the prominent journal Brain Research, and organized the annual Brain Research Conference in October 2013 on Optogenetics and Pharmacogenetics in Mental Heal and Disease as a sattelite meeting before the annual Society for Neuroscience meeting in New Orleans. He has published more than 225 journal and review articles, and has trained more than 40 postdoctoral fellows and graduated 15 PhD students.
Learn More About the Foundation