Frederick K. Goodwin, M.D.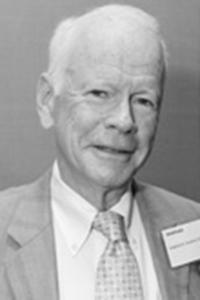 Scientific Council Member Emeritus (Joined 1987)
Frederick K. Goodwin, M.D.
Clinical Professor of Psychiatry
Director, Center on Neuroscience, Medical Progress, and Society
George Washington University Medical Center
Dr. Goodwin's research focuses on bipolar disorder, major depression and suicide. As a Founding Partner of Best Practice, a consulting firm providing expertise to pharmaceutical and biotech companies and managed care organizations worldwide, Dr. Goodwin led a study showing that lithium was significantly more effective than other widely-used mood stabilizers protecting against suicide among 26,000 bipolar I patients. He served from 1981 to 1988 as NIMH Scientific Director and Chief of Intramural Research, and prior to that held a Presidential appointment as head of the Alcohol, Drug Abuse and Mental Health Administration.
Dr. Goodwin is a graduate of Georgetown University and received his M.D. from St. Louis University. He is the author of over 460 publications, and together with K.R. Jamison, Ph.D., wrote "Manic-Depressive Illness," the first psychiatric text to win the Best Medical Book award from the Association of American Publishers.
Learn More About the Foundation