Colleen A. McClung, Ph.D.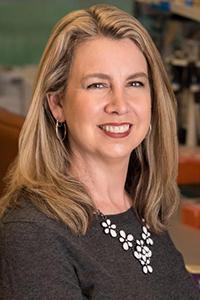 2021 Colvin Prize for Outstanding Achievement in Mood Disorders Research
Scientific Council Member (Joined 2020)
2016 Independent Investigator Grant
2007, 2005 Young Investigator Grant
Colleen A. McClung, Ph.D.
Professor of Psychiatry and Clinical and Translational Science
University of Pittsburgh School of Medicine
Dr. McClung is a world renowned leader in the study of circadian rhythms in the development and progression of psychiatric disorders. Using rodent models, she has uncovered some of the many ways in which proteins that make up the circadian clock are directly involved in the regulation of mood, reward, novelty seeking and anxiety. She also employs human postmortem tissue to measure changes in molecular rhythms in subjects with psychiatric disorders in specific brain regions. Dr. McClung has been continuously funded by the NIH for more than 20 years and she recently became the director of the NIDA funded Center for Adolescent Reward, Rhythms and Sleep (CARRS). She also regularly works with top pharmaceutical companies to test novel medications for the treatment of psychiatric disorders. Dr. McClung has been very actively associated with the Brain & Behavior Foundation for many years and has received two NARSAD Young Investigator Awards (2007 and 2009) and a NARSAD Independent Investigator Award (2016). She was also an Honorable Mention Recipient of the Daniel X. Freedman Award for Outstanding Basic Research.
Learn More About the Foundation