What Is Planned Giving?
Planned Giving, also referred to as legacy giving or deferred giving, is a way for you to arrange a philanthropic gift today to be made in the future. Most of the time, a planned gift is donated through a will, trust, or estate plan after the donor has passed away.
A Planned Gift could include any of the following:
Cash
Equity
Real Estate
Personal Property
Life Insurance
Appreciated Securities/Stock
Retirement Plan
Charitable Gift Annuities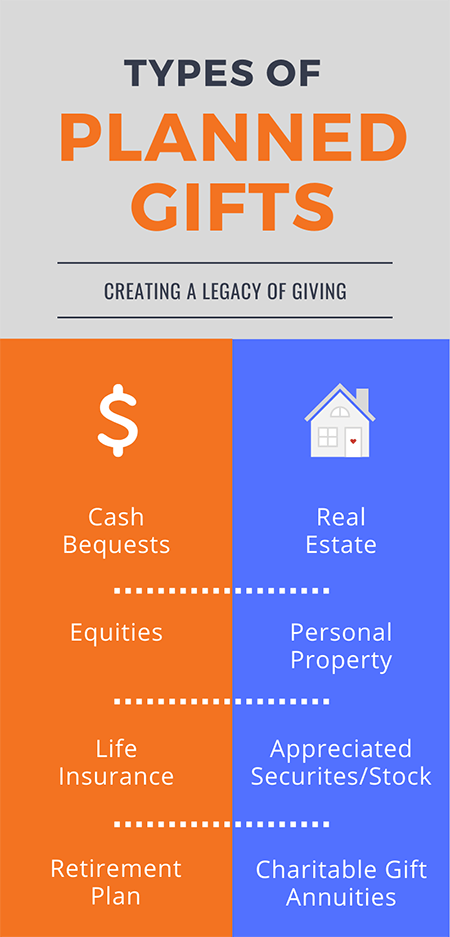 Why Make a Planned Gift?
You can benefit from setting up a Planned Gift in a number of ways:
Tax Breaks
You may receive tax breaks in the form of income or capital gains tax relief. While the specifics can vary based on a number of factors, these could result in substantial tax benefits.
Flexibility
With a Planned Gift, you have the ability to detail exactly how you want your contribution to be spent. Unlike a standard donation, a Planned Gift is arranged in a legal contract (like a will or trust) and that enables you to designate the specifics of how they would like your donation to be used.
Legacy
Perhaps the most important benefit of a Planned Gift is the ability to connect with a charity as part of your legacy. Your Planned Gift is your commitment to the organization's mission – a deep investment in a cause close to your heart.
How Do I Get Started with Making a Planned Gift?
You can direct your attorney to name Brain & Behavior Research Foundation as the beneficiary of a percentage of your estate, of a set dollar amount, or of a particular asset (your home, jewelry, artwork, etc.). Your estate is entitled to an estate tax deduction for the full value of your Bequest.
Another possibility is to name BBRF as a contingent beneficiary of assets you have designated for a loved one, should that person no longer be alive at the time of your death.
Your attorney is in the best position to recommend which approach is best.
Get started today: Email Us | 646-681-4889
How Do I Designate BBRF In My Will?
Please consult with your attorney to designate BBRF in your plans. You can provide them with the following language:
I give and bequeath, absolutely and forever, the sum of $________ (or, __% of the rest, residue and remainder of my estate) unto Brain & Behavior Research Foundation, 747 Third Avenue, 33rd Floor, New York, NY 10017, for its general purposes.
The Brain and Behavior Research Foundation's Tax ID number is: 31-1020010.
Other Ways to Designate BBRF for my Planned Gift:
Many estate assets are not transferred through a Will. These include assets in Living Trusts, qualified Retirement Plans, and the proceeds from Life Insurance policies. You may name the Brain & Behavior Research Foundation as a beneficiary of any of these assets or as a contingent beneficiary in the event that the loved one you named as primary beneficiary is no longer living at the time of your death.
IRA, Keogh, or Other Qualified Retirement Plans
Naming the Brain & Behavior Research Foundation as a beneficiary of assets remaining in your qualified Retirement Plans after your lifetime is considered particularly wise tax planning. This is because retirement plans left to individuals, other than a spouse, are taxed more heavily than most other assets. However, estate taxes and income taxes are avoided if BBRF is named as the beneficiary.
Life Insurance Policies
Designating BBRF as a Life Insurance beneficiary is a simple and effective way to fund mental health research while simultaneously gaining immediate tax benefits.
For individual life insurance policies, you may irrevocably name BBRF as owner and beneficiary of a long-standing Life Insurance policy; or you may retain ownership and merely name BBRF as the beneficiary. If you choose to name BBRF as both owner and beneficiary – irrevocably – you will receive an immediate income tax deduction for the lesser of your cost basis or the current value of the policy.
If you are employed, you may be receiving group term life insurance as an employee benefit. If so, BBRF can be named as a beneficiary of the entire policy or a percentage thereof.
Get started today: Email Us | 646-681-4889
Are There Planned Gifts That Provide Me with Income?
A Charitable Gift Annuity is an investment in both you and the Brain & Behavior Research Foundation that ensures the future of everything that's important to you and your loved ones.
A Charitable Gift Annuity is a simple contract between you and BBRF established when you make an irrevocable gift of at least $10,000. In turn, BBRF will make guaranteed income payments to you or a loved one for the rest of your life.
The income you receive from your Charitable Gift Annuity will depend on your age at the time you enter into the agreement and the number of designated beneficiaries to receive the payments.
Your gift is eligible for an income tax deduction based on your age and the interest rate you receive. The higher this interest rate is, the higher your deduction will be.
Get started today:Email Us | 646-681-4889
Why Should I Choose Brain & Behavior Research Foundation for My Planned Gift?
For more than 30 years, The Brain & Behavior Research Foundation (BBRF) has awarded more than $408 million to fund more than 5,900 grants to more than 4,800 scientists around the world. BBRF is the nation's top non-governmental funder of mental health research grants.
Designating a Planned Gift to the Brain & Behavior Research Foundation (BBRF) enables you to play a critical role in supporting mental health research. When you make a Bequest or other Planned Gift to BBRF you join a rich history of other supporters who care about the future of mental illness research.
Get started today:Email Us | 646-681-4889
Did You Know That 1-in-5 People Live With Mental Illness?
With federal funding drying up, grant-funding from BBRF is more important than ever. Our role is to provide much-needed seed grants to help young scientists prove the concepts – often fresh, innovative research projects. Often, BBRF-funded researchers then go on to receive additional money enabling them to better understand the brain and develop improved diagnostic tools and treatments for mental illnesses. To date, BBRF-funded researchers have gone on to receive $4 billion in additional funding.
How Will My Planned Gift to BBRF be Used?
100% of every dollar donated to BBRF for research is invested in our research grants. Our operating expenses are covered by separate foundation grants. Your Planned Gift will support the next generation of researchers working to develop and discover new treatments, therapies and ultimately cures for these debilitating illnesses.
Many people affected by mental illness—those diagnosed, their friends and families—have a significant history of remembering the Brain & Behavior Research Foundation in their estate plans. These gifts have been responsible for funding cutting-edge research ranging from the work of Dr. Herbert Meltzer and the use of the antipsychotic drug, Clozapine, on treatment-resistant schizophrenia patients to the pioneering work of Dr. Helen Mayberg using Deep Brain Stimulation for treatment-resistant depression.
Get started today:Email Us | 646-681-4889